It's not just that it's a crime. Forgery in real estate transactions poses the potential for all kinds of trouble. Unfortunately, it's something you might learn firsthand.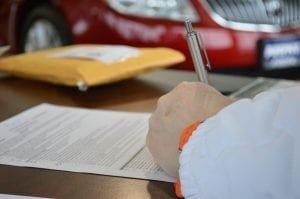 Recent news regarding fraudulent claims regarding deed transfers comes in from two neighboring states. In Pennsylvania, authorities charged a Philadelphia man with forging signatures on deeds to transfer six properties to his name. None of the rightful property owners knew anything about the transactions.
Meanwhile, another Philly man allegedly made a six-figure profit flipping houses. However, he's accused of first signing the names of dead people to claim ownership and offer it for sale.
In New York, the court arraigned a 51-year-old man for forging documents connected with a vacant $1 million brownstone.  Once again, the elderly property owner signed no papers and did not authorize a deed transfer.
Unfortunately, these types of forgery complaints dealing with real estate transactions are nothing new. And, they absolutely happen in New Jersey as well.
In fact, other claims involving forgery may take you by surprise. Or not, especially if it causes havoc with your property title.
Other Claims of Forgery in Real Estate
The sad truth is that a forgery claim may arise at or before your real estate closing. Consider scenarios when joint owners decide to sell real estate.
As you would imagine, both owners need to sign off on the deed transfer. However, sometimes it's difficult for one of the sellers to appear at the closing table. Instead, someone else shows up in their stead with what purports to be a power of attorney signed by the absent owner.
In many cases, a power of attorney authorizes one joint owner to finalize the real estate transaction on behalf of both parties. In theory, a fantastic idea. However, what happens if the signature on the power of attorney is actually forged?
Meanwhile, something else can happen as well. Just recently, the New Jersey Appellate Division ruled on a case dealing with forgery in a real estate transaction. The case demonstrates how fraud claims can impact commercial transfers of title as well.
Improper Mortgage Discharge
The court decided Chicago Title Ins. Co. v. Union Ave. Holding, LLC on January 8, 2019. The details of the case prove interesting and are based on claims of fraud and breach of covenant.
As you may note, Chicago Title Insurance Company is the plaintiff in this matter. However, they brought this lawsuit on behalf of their insured, a company named Golden Union. Union Avenue Holding sold Golden Union an apartment building for $1.4M.
It is customary in real estate transactions to condition sales on several factors. One of them includes proof that all property liens are satisfied, such as outstanding mortgages.
As it pertains to this matter, the seller submitted proof of the discharge of the $1.1M mortgage on the property. Subsequently, Chicago Title Insurance agreed to issue a title insurance policy. This case provides a real lesson in the value of title insurance.
Approximately four months after the closing, the buyers learned they'd been duped. The signatures on the mortgage discharge papers were forgeries. Ultimately, the court decided that there was "ample credible evidence to support [p]laintiff's claims based on the breach of the covenant in the warranty as [d]efendants conveyed title knowing the … mortgage remained as an encumbrance on the property."
The arguments in this case also deal with the failure to detect the discrepancies at closing. As Chicago Title Insurance seeks reimbursement for the money it paid, this matter highlights the importance of protecting your investment.
Contact Us
Fraud claims related to real estate matters come with legal issues from a few vantage points. We help buyers and sellers avoid problems and deal with them if they happen. Contact the Law Offices of Lawrence Centanni to set up an appointment for legal advice concerning your real estate transactions.